Leaked photos out of Australia seem to show a clay styling model of the upcoming truck.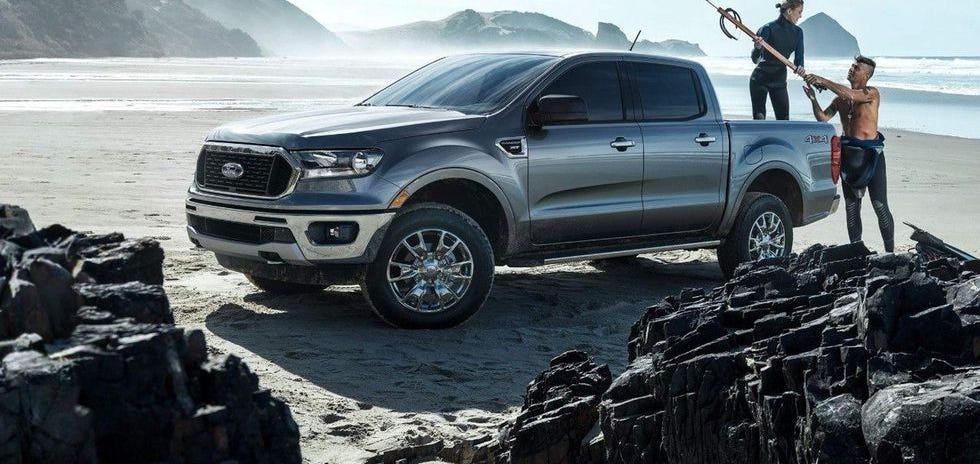 Enthusiasts in the United States rejoiced when news broke a few years ago that the compact—well, now mid-size—Ford Ranger pickup would be returning to the American truck market. That enthusiasm was somewhat dampened when we found out that the Ranger we'd be getting would actually be a reworked version of the truck that had existed overseas since 2011. The 2019 Ranger (pictured above) is now finally on sale, and despite its aging underpinnings and styling, it's a competitive truck that hasn't been phoned in. But just weeks after the new Ranger has hit dealer lots in the United States, we're already getting what could be our first look at the next-generation Ranger, which should make its debut in 2021 as a 2022 model.
Our colleagues at Australia's Wheels magazine posted two photos of what look like a final model of the truck. The windows are blacked out and some of the surfaces are a little wonky, leading us to believe that this is a clay styling mockup. Now, this could just be one of multiple styling proposals that Ford has yet to decide on, but we don't think that's the case for a couple of reasons: First, it's close enough to the debut of the next Ranger that the design should be close to finalized now (if it hasn't been already), and second, the details on this truck look extremely thought out and production ready. And the fact that the truck was spotted in Melbourne also lends credence to its being the real thing; the current T6 Ranger was designed and engineered by Ford of Australia, so it would make sense that the Aussies at Ford would have at least some hand in the next-gen model.