Need help applying your new decal or sticker? Don't worry we have step by step instructions on how to apply your new Decal! Weather it is a small sticker for your car, a jeep hood decal or a large windshield Banner Decal, we have you covered.
Small Decal Installation:
This can be done by removing the backing layer, then, holding the transfer and vinyl layers with both hands stick your decal to your desired spot, then after rubbing over it with a card or squeegee, remove the transfer layer. All that should remain on your surface is the die-cut car decal.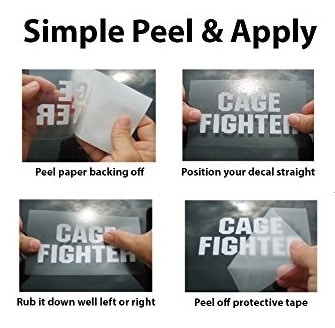 Large Decal or Windshield Decal Installation
Step 1
After thoroughly cleaning the windshield surface, find and mark
it's center with a small piece of tape or white grease pencil. Take
care not to use the Rear View Mirror mount for reference as not
all mirrors are placed at exact windshield center.Step 2
Locate and mark center of the Windshield Decal. Center can
easily be found by folding the decal lengthwise in two . The
resulting crease is center.


Step 3
Once centers are found, place decal onto windshield so as to
become familiar with desired placement.


Step 4
Recommended method of installation is the Center Hinge. This
is achieved by carefully removing a 2-3″ portion of the backing
paper from the center as shown.


Step 5
Once a portion of the center is removed, simply fold back each
side of the backing paper approximately 1″ (25.4mm) onto itself.


Step 6
Then, turn the decal over and carefully set it in the desired
location, making sure it's centered. When placed correctly, stick
the center exposed area down with your thumb.


Step 7
Once "hinged", apply each side of the decal from the center with
an application squeegee or soft non-marring tool.


Step 8
To remove the application tape, peel SLOWLY at a sharp (180°)
angle. If the vinyl appears to be lifting, gently push the
application tape in the opposite direction from which you were
pulling and re-squeegee that area. If after removing the
application tape, air bubbles are apparent, puncture the vinyl
with a pin or needle (DO NOT USE a knife or razor blade) and
squeegee out the air towards the puncture.


Exterior Graphic Care
Today's finest pressure-sensitive vinyl materials have been used to create your new graphics. These graphics require little
maintenance and should be treated similarly to a painted surface.
Wash your graphics with plain soap and water or any commercially made car wash soap. Rinse thoroughly. Please wait a few days after installtion to wash to insure a good bond.
Keep high pressure nozzles at least 18 inches from the edge of the graphics. High pressure spray may cause the edge of
the graphic to peel.
Test any cleaning solution on a small section of the decal before using. Be sure to read the solution's directions and warning notices that may apply to Vinyl Graphics.
Don't use any aromatic solvents such as acetone, M.E.K., toluene, paint thinner, or lacquer thinner on your graphics. Any solvent may soften the vinyl material or smear colors.
Don't apply wax over graphics. Wax products generally contain petroleum distillates, which can damage vinyl graphics.
Note about Windshield Lettering Products: There is no warranty on windshield lettering products against peeling,
wiper blade damage, ice scraper damage, or any other type of damage that may occur. While these occurrences all prove to be out of our control, rest assured that the vinyl materials used are Premium grade with a life expectancy in regard to colorfastness of 5-7 years.
Car Decal Removal
From Glass: Use a razorblade or scraper (metal or plastic) to lift an edge of the vinyl until you can grab it with your fingers and peel off.
From Vehicle Body: Use a plastic razorblade or scraper so you don't scratch your clear coat.
Tips: For stubbornly stuck vinyl, heat mildly with a heat gun or hair dryer, then use above methods.